Cobb Ti Cat-back Exhaust STI/WRX 02-07
The COBB Titanium Cat-Back Exhaust for 02-07 WRX & STI is un-matched in build quality, style, and performance. Utilizing Grade 4 titanium tubing fully back purge TIG welded, this cat-back offers high corrosion resistance for years of trouble free enjoyment. Back purging ensures quality TIG welds that will not fail due to contamination like you see in so many other low price Titanium parts. The entire system uses slip-fit connections, this allows for a wide range of adjustment and easy install with perfect fitment. A burned aka heat treated titanium tip adds a distinct touch and offers adjustment to fit any rear bumper . Best of all, this complete system weighs in at 17.25lbs fully assembled, considerably lighter than the factory system as well as all the stainless steel counterparts on the market.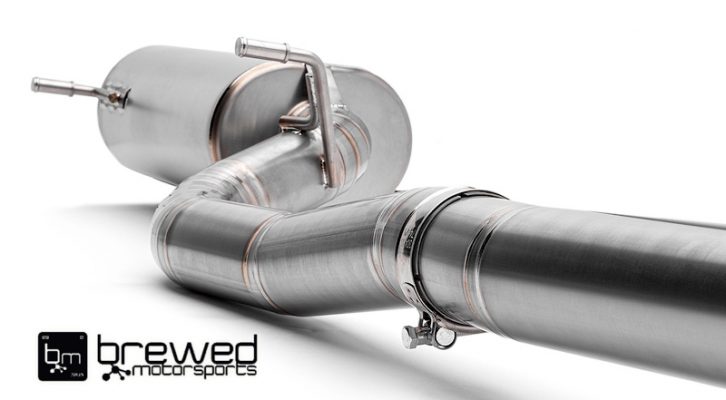 Why Upgrade to the Cobb Ti Exhaust?
The COBB Titanium Cat-Back Exhaust for your 2002-2007 Subaru WRX & STI delivers premium styling and quality fabrication. This full Ti exhaust is super light weight and uses a high density straight through muffler that provides a clean aggressive sound that will set your Subi apart from the pack! Other titanium cat-backs can produce an undesirable 'tinny' exhaust note, however the Cobb Ti catback has been engineered to deliver a refined exhaust note you will fall in love with and never look back from.
Subaru Titanium Cat-back Exhaust WRX 2002-2007, STI 2004-2007
Grade 4 Titanium Construction with Back-

Purged Welds

Lightweight – 17.25lbs Assembled
4″ Blued Titanium Tip with COBB Logo
High Adjustability via Slip-Fit Connections
Bespoke Straight-Through Oval Muffler
Brewed Motorsports supports Cobb exhaust systems through our normal Tuning service as well as our E-Tune services for those customers in remote locations who don't have access to a professional tuner.
Special Cobb AP Pro Tune offer:
Receive $50 instant credit towards any of our Cobb AP Pro tune services when you order a Cobb Ti exhaust. A custom Pro Tune will get your WRX or STI running strong and making reliable power. All Pro tunes are calibrated to eliminate engine knock and run the engine at a safe yet efficient AFR. This allows us to make more power with more reliable results compared to any OTS map.