150psi Pressure and Temperature Sensor
The all new 2 in 1 pressure + Temperature liquid sensor to monitor and data log your engines fuel pressure/temperature and oil pressure/temp is a key part of any serious engine build. These fluid pressure and temperature sensors can be found all over Brewed builds as well as our customers track cars. We regularly use at least 2 of these sensor per engine (sometimes more).
Any customer using one of our plug n play Motec, AEM or Haltech ECU packages can also take advantage of using these pressure sensors for engine protection strategies and fuel trim compensations. These features allow for better tuning and a more reliable over all engine package as the ECU is able to monitor and use the live fuel and oil pressure data within our custom ECU calibrations.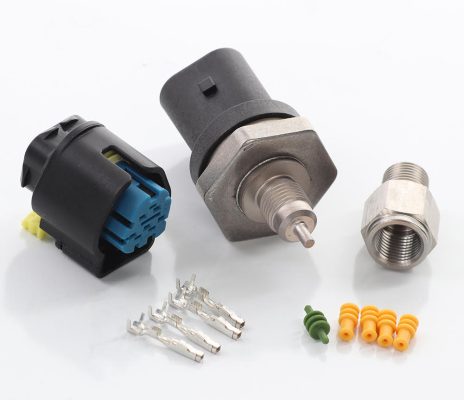 The 2 main uses for these pressure/temperature combo sensors would have to be oil and fuel pressure/temps. Combine these sensors with one of our plug and play ECU packages for Motec or Haltech Elite 2500 ecu's and we can calibrate the ECU to use these sensor values as engine protection features. This means if oil pressure drops we can cut spark/fuel and save the engine from damage. When used for fuel pressure we set up the ECU to drop boost as soon as there is a drop in fuel/injector differential pressure. We also setup the ECU to calculate fueling based off the fuel pressure sensor which keeps the engine running on the target AFR and drops boost to relieve stress on a fuel system that is starting to loose pressure during a full power pull. Interested to learn more about how a fuel pressure sensor is used along side the AEM Infinity ECU in our E30 BMW? Check out our blog for a full Fuel pressure sensor install and ECU calibration explanation. 
150psi Oil & Fuel Pressure + Temperature Sensor Features:
Accuracy: +/- 0.5% Full Scale over
Response Time: < 1ms
Output: .5 to 4.5Vdc Linear pressure sensor
Output: Linear output for Temperature sensor
Elec. Termination: Integral weatherproof connector, includes mating connector, pins & pin lock
Optional packages: Sensor, Connector, Pins, Pin Lock, 1/8″ NPT Stainless adapter, TGV connectors/pins