S13 drift car Turbo KA24 on AEM Infinity
Here at Brewed we believe having fun with your car is of the up most importance! While drifting is not for everyone, if you've ever had the opportunity to hop into a well prepped car and slide around in a safe environment with some friends you know how fun it can be. We truly hope to see you at an event very soon so we can share the drifting experience with you.
The Brewed Built S13 really has only one purpose, to paint a smile on the drivers and passengers face no matter what the conditions out side may be. With simplicity and reliability a top priority for this build the car will simply never let you down.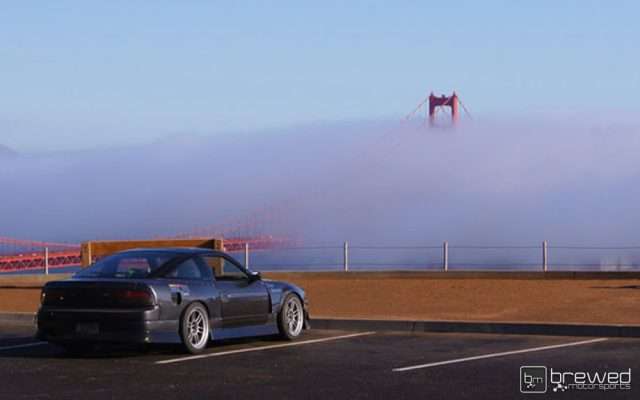 Turbo KA S13 build details:
KA24 bone stock engine with 120K and over 15K miles of boost. Why fix what's not broken right? Fresh engine with slightly higher compression, port/polish and ARP hardware was swapped in. No good reason besides some extra power is always fun.)
Inline Walbro Fuel pump and pre pump fuel lab Billet Filter
ClutchMasters 6 Puck sprung Ceramic disc with heavy duty pressure plate.
Stock KA transmission
Solid Motor and Transmission mounts
Nismo 2 way LSD
Tested a Borg Warner EFR series turbo now back to a little baby t25 garrett turbo with tial 38mm wastegate
Custom Full Race Turbo manifold and Down pipe
Custom V mount intercooler and PWR radiator
Custom intake with ducting for fresh air
Custom 3″ exhaust with full V band Titanium muffler (allows a quick switch of tips if you want to be extra loud for a track day)
AEM EMS using speed density
AEM uego
Extra special JIC coils valved by Jon him self *thank you Jon and JIC*
Custom adjustable control arms with spherical bearings
S14 5 lug set up
300ZX front brakes
Custom rear sub frame
Enkei RPF1's 18×10.5 15mm front 3mm spacer and rear 25mm spacer
NRG deep dish steering wheel and quick release (truly a must if your over 6′ and climbing into the little bucket seat!
Carbon bucket seat
Status 5 point Harnesses
4 way door speakers, 4 channel amp and one sub (no head unit, only RCA to head phone jack for use with your favorite mobile device. Gotta have beats while your sliding around having fun!
8 Gallon Fuel Cell in custom Aluminum Box mounted LOW just behind the rear diff (similar to stock tank location but actually centered in the car for better weight distribution.
This car will get a new larger external wastegate in near future to better support the port and polished head. We will either use a Tial 44mm MVR or a Turbo Smart 45mm hyper gate.