ETS V Band STI/WRX Turbo Kit
The ETS V band turbo kit offers a new design providing more air flow and better performance than any 2 or 3 bolt style turbo kit. The V-band kit generates a huge torque curve with plenty of high RPM flow perfect for response and top end power for those high boost applications. The ETS V-band turbo kit consists of all the necessary turbocharger hot side upgrade components, and utilizes full Vband connections from manifold to up pipe, up pipe to turbo and turbo to down pipe. This makes for an easy install and trouble free usage as there are no gaskets hardware to worry about/service.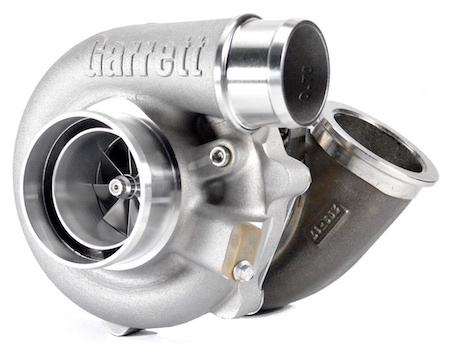 Turbochargers such as Garrett, Precision Turbo, Borg Warner and Forced Performance are all options perfectly matched for the ETS V-band turbo kits. The V-band PTE 6266 turbo has proven to be a great match on the EJ25 engine with fast spool and HUGE power potential. Whether you are road racing, drag racing or building a "street weapon" daily driver, the ETS V-band STI turbo kit is perfectly suited for any high end STI build.
V-Band ETS Turbo Kit STI & WRX
Choose from the latest Turbochargers from all your favorite turbo manufactures
Quick Spool Design
Instant Throttle Response
Large Runner Manifold with V- band Up-Pipe connection
Genuine TIAL MV-R Wastegate
Genuine Borg Warner, Garrett or Precision Turbocharger
All necessary parts for install
We use this exact turbo kit on a wide range of STI builds looking to make 400+ HP efficiently
Hand built in the USA
ETS STI Turbo Kit Includes
02 Bung in Downpipe
Your choice of Borg Warner, Garrett or Precision Turbocharger
ETS V-band Up-Pipe
ETS V-band Manifold
Twin TiAL MVR Wastegate
ETS Vent To Atmosphere Dump Tube
ETS 3.0″ Downpipe (connects to factory or aftermarket catback exhaust)
ETS 4.0″ Intake pipe w/ K&N Filter
ETS 2.5″ Hotside Intercooler Pipe (under the intake manifold)
Large 5/8 Oil Drain Line
-4 Oil Feed Line
Water Fittings (Borg Warner or Garrett)
Water Lines (Borg Warner or Garrett)
Hardware and Clamps needed for install
Optional Front Mount Intercooler upgrade
Finding the right turbo kit is not an easy task, there are hundreds of options that all play a huge roll in how the complete kit performs. Here at Brewed Motorsports we are happy to discuss the finer details of each individual build to ensure a perfectly matched turbo kit. If you need more than just a turbo kit we also offer package deals on intercoolers, Injectors and any other engine part you may need. Not only can we supply you with all the parts you need to reach your goals we can provide custom base maps and complete Etunes for all WRX and STI ETS turbo kits including the ETS Twin Scroll STI turbo kit.
Fits 2004+ Subaru STI For off road Motorsports use ONLY. 
Works with ETS STI Rotated Intercooler Kit.
This kit was designed on a LHD vehicle and may not work with a RHD vehicle due to the steering rack location.