GrimmSpeed Front Mount Intercooler Kit for a 2015-21 Subaru WRX FA20DIT
GrimmSpeed Intercoolers have set the gold standard of how a high performance heat exchanger should be crafted. GS intercoolers have always maintained the delicate balance of low pressure drop and high temperature rejection, which is vital to safety and performance for your turbocharged Subaru engine.
Quick Specs
27"x11"x4″ Cross Flow Core – Durable Bar and Plate Construction, balanced perfectly between pressure drop and heat rejection
Cast Aluminum End Tanks – Designed for equal flow distribution and minimum pressure drop
Steel Bolt-on Mounting Brackets – Robust mounting solution to minimize movement and maximize adjustability
Virtually No Permanent Vehicle Modification – Only two tiny ribs need to be removed from the OEM undertray and a few simple cuts to the splash guard
Compatible With factory or GrimmSpeed Intake – [Removal of snorkel required; GrimmSpeed Intake recommended for maximum performance] Pressure Tested – Cleaned, sealed and guaranteed to work prior to delivery
Available in Raw Aluminum or Satin Black Powdercoat – Uncoated or resilient powdercoat finish to protect against rock chips
High Quality, Pre-applied GrimmSpeed Vinyl Decal – Show your pride for the BEST front mount intercooler on the market, or easily peel it off.
No tune required – No change in maximum boost or time to spool
Welded and Inspected by Hand in Minneapolis, MN – For consistency and top quality control
INTERCOOLER CORE
The core is the most important aspect of the intercooler. It's difficult to design the most efficient core possible; get it right and you have phenomenal results, get it wrong and you end up with an expensive paperweight. GrimmSpeed was able to channel over a decade of intercooler production knowledge into creating a totally custom design from the ground up with our tested internal and external specifications to maximize the performance and deliver the best cooling option on the market. The beautiful cast aluminum end tanks were carefully designed alongside the core for the most efficient and optimal flow characteristics for all driving situations. The result of GS's hard work is an intercooler designed, welded and tested right here in Minneapolis, MN by a team of skilled engineers and welders with extremely minimal pressure drop and extraordinary heat rejection.
Along with amazing performance, perfect vehicle fitment and mounting are essential. GS designed robust steel mounting brackets that will keep the unit from shifting around even during hard track driving. GS learned from other manufacturer's shortcomings and improved upon them. Unlike other kits, our front mount intercoolers retain a HUGE core, but do not require cutting portions of your bumper cover or light housings, and don't require replacing or relocating components such as the washer tank or coolant reservoir in order for the piping to fit.
INTERCOOLER PIPING
An impressive core like the one we've designed means nothing without a complimentary, properly-engineered piping kit. GrimmSpeed kits are comprised of thick aluminum tubing, precisely machine-bent with large radius bends for maximum flow and perfect fitment every time. The pipes are bead rolled at each end to lock together with the included 5-ply silicone couplers so you don't have to worry about blow offs under high boost. They are then covered in gorgeous, durable red or black wrinkle powdercoat finish that looks incredible and matches your other GrimmSpeed parts!
PIPING SPECS
Thick .090" Wall, 2.5" Diameter 6061 Aluminum Piping – Beadrolled and CNC mandrel bent on a large radius for max flow; lightweight and heat dispersant
Precision Pipe Routing – Retain factory components and avoid unnecessary trimming
Retains Factory Fog Light Mounting
5-ply Silicone Couplers – Custom molded and reinforced to last through demanding environments
Breeze Hi-Torque Liner Clamps – Stainless steel for lasting looks and grip with integrated liner to prevent damage to silicone
Durable Red or Black Wrinkle Powdercoat – Keeps pipes protected against corrosion while looking great. A perfect match to your other GrimmSpeed parts!
OEM Bypass Valve Location – Eases installation and allows for use of most aftermarket BPVs
BUMPER BAR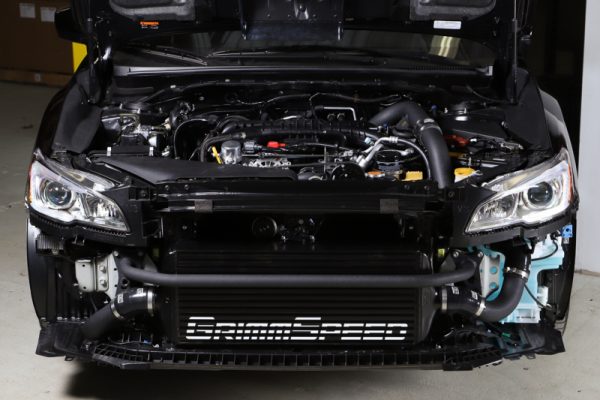 As with most FMIC kits, the GrimmSpeed Front Mount Intercooler requires the removal of your factory bumper beam in order to fit its massive core. The factory bumper beam aids in chassis rigidity and adds reinforcement to your factory bumper cover. To help keep chassis deflection at bay and to keep any large dents out of your front fascia, we at Brewed Motorsports are offering the GrimmSpeed Bumper Bar as an optional add-on. The bumper bar is constructed of thick mild steel, welded to robust mounting plates that are machined for weight savings. Each bar includes a welded-in tow hook receiver so you can continue to use your GrimmSpeed License Plate Relocation Kit. The entire bumper bar is covered in a durable black powdercoat for good looks and longevity!
BUMPER BAR SPECS
Thick .125" Wall, 1.375" Diameter DOM Mild Steel – Designed and built tough to outlast your vehicle
Robust .375" Mounting Plates – Thick for strength, skeltoned for weight savings
Reduces Chassis Deflection – Maintains chassis rigidity vs not running a bumper beam [Bar not intended to be a substitute for the OEM crash protection] Integrated Tow Hook – Perfect for the GrimmSpeed License Plate Relocation Kit [Not intended for vehicle recovery] Wrinkle Black Coating – Durable powdercoat for a stealthy look
**Even though this bumper bar is built to last it is NOT intended to be used as a substitute for the OEM crash protection, nor is it intended to be used for vehicle recovery.**