Garrett G25-660 Turbo packs a huge punch in a small package, capable of flowing enough to support 660HP the G25 is a beast! Available in standard rotation or reverse rotation for easy fitment in twin turbo applications the G25 turbo has truly revolutionized what we expect for power output from this size of a turbocharger.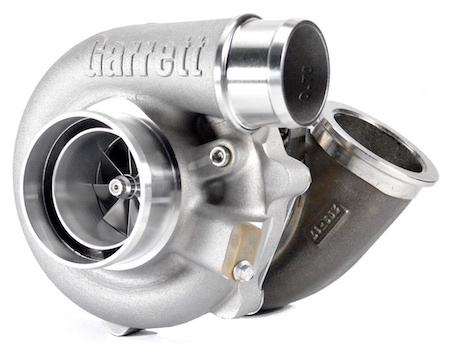 Turbine housing options available for the G25 are all V-band inlet and outlet delivering easy installation, servicing and NO chance of a leaking gasket or loose turbo flange hardware. These key features make the G series turbos perfect for all high demand Motorsports applications.
G25-660 key features:
G SERIES COMPRESSOR AERODYNAMICS FOR MAXIMUM HP
54mm TURBOCHARGER COMPRESSOR WHEEL
79% MAXIMUM COMPRESSOR EFFICIENCY
MAR-M ALLOY TURBINE WHEEL RATED UP TO 1050° C
NEW TURBINE AERO PROVIDES HIGHER FLOW AND EFFICIENCY
STAINLESS STEEL TURBINE HOUSINGS RATED UP TO 1050° C
OIL RESTRICTOR AND WATER FITTINGS INCLUDED
FULLY MACHINED SPEED SENSOR AND PRESSURE PORTS
Turbine flow VS turbine housing sizes: 
We highly recommend using the 0.72ar turbine housing for any engine focused on fast spool and good response. For those looking to make max power we recommend the 0.92ar turbine housing.
There are so many variables to keep in mind when choosing a custom turbocharger to best match your engine. We are not here to tell you what to do BUT we are happy to share our knowledge and experience to ensure you get the best matched turbo for your build and power goals. Please contact us if you have questions about your application, turbine housing options or any other turbo related topic.