GrimmSpeed Version 2 Gesi Catted Downpipe / J-Pipe – 2015+ Subaru WRX FA20 DIT
The idea of upgrading an already-solid product like the GrimmSpeed V1 J-Pipe was a massive challenge, but by allowing our Engineering Team to focus meticulously on the details, we were able to make what we would confidently call the most refined 2015/FA20 WRX J-Pipe on the market.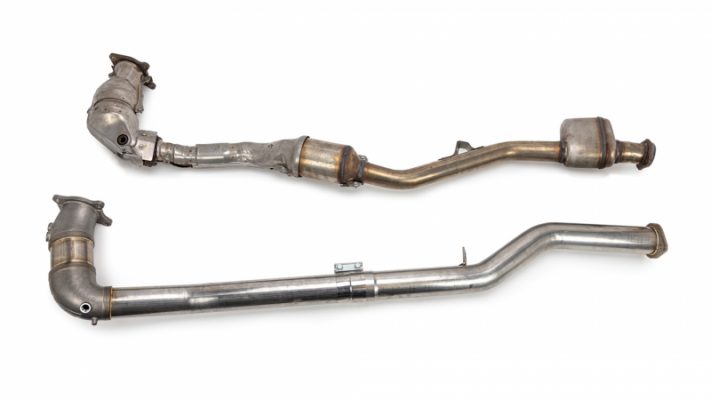 The Version 2 GESI J-Pipe does retain the best qualities of the original: tough 3″ 304 stainless steel construction, thick 1/2″ flanges and the type of fit and finish that you've come to expect from GrimmSpeed. This is your first taste of the next generation of GrimmSpeed Exhaust Products, with a lot more exciting offerings to come!
The first thing you'll notice is that The GrimmSpeed Version 2 J-Pipe is now a 2-piece design. This not only helps to keep the U.S. welding/manufacturing, packaging and shipping costs down to keep the end product within a reasonable price range, but it also allows for easier solo-installation of the pipe. No more having to use exhaust stands or taking your chances by trying to balance a 6′ steel pipe in the air!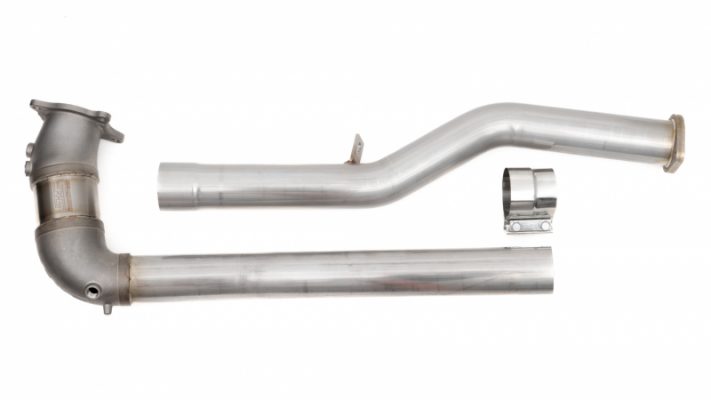 Another major design change are the cast steel collectors surrounding the cat. These not only look phenomenal stamped with the GrimmSpeed logo, but also allow for optimized exhaust flow compared to other aftermarket offerings. They include a 3rd bung, giving you the option to run an additional sensor/gauge without having to tap or weld the unit. The cast collectors and 2-piece design of this pipe also allowed us to further improve ground clearance over our original design. This results in an additional inch of clearance, especially crucial for lowered cars.
The inclusion of the GESI Catalytic Converter is one of the major changes for the V2 J-Pipe. While retaining the high-flow characteristics of our former high-flow cat, the GESI is a much more robust unit in its ability to clean particulate matter that is part of the combustion process, while retaining all the performance benefits which are expected from a GrimmSpeed Product. It also gives us the flexibility to insert it in a much more desirable and better operating location, mimicking OEM placement. During our real-world, long-term testing, the V2 pipe did not throw a check engine light for catalyst inefficiency (results may vary depending on individual setups/modifications).

Specs
GESI Catalytic Converter – Comes as standard in all V2 J-Pipes
304 Stainless Steel Construction  – Using the BEST materials in the industry
Thick 1/2″ Flanges – Added durability and longevity
Cast Steel Collectors  – Extremely strong with low restriction for optimized flow
2 Piece Design – Makes for much easier solo installation
Standard 3rd 02 Bung – Allows for optional use of aftermarket sensors
Grounding Strap Mount – Retains all factory functionality
Custom Stainless Turbo Studs Included – Replaces cross-thread prone OEM versions
Gaskets and Hardware Included – Everything you need for an easy install (will require 3″-to-OEM Exhaust Adapter to run w/ factory catback)
Brewed Motorsports Notes:
**This product has been designed to fit only 6 speed manual cars and is off road competition Motorsports use item ONLY, never to be used on public roads within the USA.**
The downpipe can be used with the stock ECU programming, but you will receive better performance with a custom calibration. We at Brewed Motorsports highly recommend a Cobb Accessport and one of our Cobb Pro Tune's to get the most out of your Grimmspeed catted downpipe.