Choosing the right clutch for your FA20DIT WRX
Best Clutch for any WRX 2015+
This article will help guide all 2015+ WRX owners to the best matched clutch kit for their build and driving style. Whether you are planning your first power mods or your WRX is already making big power with an aftermarket turbo we have the perfect clutch kit to support your project. If your looking to make more power from your WRX have a read through: Best WRX Modifications Guide. 
We at Brewed Motorsports have used and tested clutch kits from every major manufacture on the market. Over all the years of testing we have consistently had the best and most reliable results using Clutch Masters and Exedy. With over 15 years of hands on experience using the full Clutch Masters line up on a huge range on WRX and STI builds we are confident CM has the best clutch options for any WRX build. For those who would like to use another brand we recommend Exedy Clutches from our partners at FFrides. For us Clutch Masters has been our go-to for clutches due to their high quality made in USA construction, reliability, long life, serviceability, and easy to source replacement parts. Exedy comes in a close second only do to the limited friction materials and lack of easy to source replacement parts. 
WRX Stock up to 300HP
If you're driving a stock or lightly modified WRX and want better clutch performance/holding power with OEM pedal feel, Clutch Masters FX100 is perfect for you. This Clutch is super driver friendly with OEM like engagement and super smooth feel with the ability to hold 15% more torque than the OEM clutch. Those using the OEM WRX flywheel be sure you order the year specific clutch kit to ensure it bolts up perfectly to your oem Flywheel.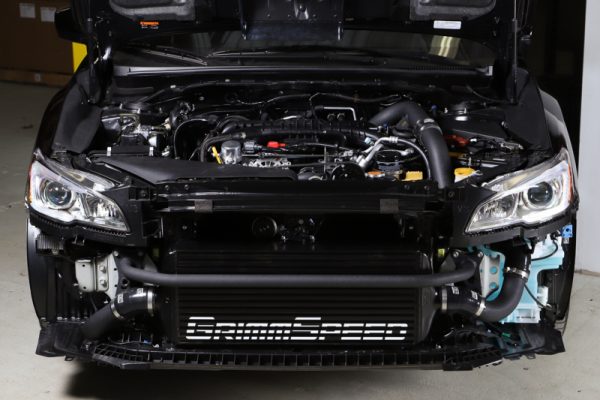 Stage 1 WRX Clutch
Once your WRX has some more "serious mods" such as: WRX Cobb Accessport, WRX Cobb Boost Controller, WRX Front Mount Intercooler and a custom WRX E-tune an upgraded clutch is key to reliably holding the power. At this power level 300hp+ we highly recommend the FX200 and FX350 clutch kits. Choosing between the FX200 – FX300 is really dependent on what the driver wants most out of their clutch as to pedal feel and initial bite. 
WRX FX200 Clutch
While having similar pedal feel to the stock clutch and FX100, will not only hold 20% more torque but also last 2-3 times the longer due to the Kevlar clutch disc material. The FX200 is the ideal clutch for bold on mods + custom E-tune for anyone that wants a super long life clutch that has a nice soft smooth pedal feel.
WRX FX250 Clutch
With the FX250 clutch you will have similar pedal feel to the FX100 and FX200, while using Clutch Masters custom "Fiber Tough" friction surface for slightly higher torque holding capacity while also being street-able. This is a slightly more aggressive friction material than the FX200 and is perfect for those that want a solid/fast engagement on hard shifts.
WRX FX300 Clutch
The FX300 is our last option when it comes to an oem like "street-able" feel for a single plate clutch kit. The FX300 has slightly more torque holding capacity than the FX250 as well as a slightly more aggressive engagement. This is one of our most popular Clutch kits for any WRX making 300-400HP. The FX300 is soft enough to use in a daily driver but holds up great to weekend track days, autocrosses and the occasional drag racing. 
Motorsports Stage 3+ WRX:
If you find yourself in this category you probably have one of our
Built IAG Blocks
and running our custom Cobb AP E-tune or our
WRX Motec ECU package
. There's really only 3 good options if you're using your WRX for serious competition racing and motorsports. These 3 options are the WRX FX350, FX500 or one of Clutch Masters Twin Disk clutch kits. The FX350 and FX500 clutch kits hold up to 40% more torque and offer a super fast on off engagment with stiffer than stock pedal feel. The FX350 and FX500 will have some chatter, aggressive engagement, and are not normally recommended for street driving. 

WRX FX350
The FX350 is our first step into clutches designed for racing. The FX350 offers decent pedal feel with only some light clutch chatter. These Clutch discs feature the Fiber Tough material and increased rigidity, this is one of the more driver friendly clutch kits when it comes to single plate clutches that are meant for motorsports use. 
FX400 WRX Clutch
The FX400 is one of the first clutch kits with a ceramic friction surface. With this you can expect increased torque holding capacity over any aforementioned clutch kits. You may also experience chatter in reverse and very quick engagement. This sprung 6 puck design being one of the more aggressive clutch discs compared to the segmented version.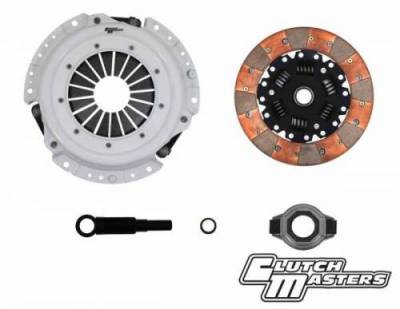 WRX FX400 Segmented Clutch
This clutch kit has a similar torque holding capacity of the 6 puck version, but with this full face design you can expect smoother engagement in first gear and reverse compared to the 6 puck version of the FX400. This full face sprung clutch disc is one of the best options for those who want super fast engagement but a smooth enough feel to daily drive.
WRX FX500
This is the most aggressive single disc clutch kits that Clutch Masters Offers. This is certainly recommended for race only due to the un-sprung 6 puck clutch disc. This is the ultimate single disc for your WRX setup for racing and ready to hold up to 600+hp!
725 Series Twin Disc Clutch
The 725 series (race or street) for the FA20 WRX is the ultimate clutch kit for anyone making serious power. Clutch Masters 725 race series clutches will support 1000+ hp with no issues. The biggest thing to consider when choosing your twin disc Clutch Masters for your WRX is deciding if you would prefer a light weight fast revving aluminum flywheel or a super solid lightweight steel fly wheel. Steel flywheels being much more daily driver friendly while the super lightweight aluminum flywheels will help your engine rev up faster and provide better throttle response. The Aluminum flywheels also feature a replaceable steel friction ring so you can easily service your twin disc clutch as needed without buying a complete new flywheel.
**Clutch Masters highly recommends the street twin disk kits are used for street driven vehicles. The Racing kit will have a fast/stiff engagement do to the 2 ceramic clutch discs vs the street kit having one organic and one ceramic disk. **`
Service, Replacement Parts, and Tips:
A pro tip from Brewed Motorsport. If you have a 2015 – 2017 WRX you can upgrade to the 2018+ FX100-FX500 clutch kits if you get a flywheel for a 2018+ WRX, which is a slightly larger friction surface. 
Clutch Masters also offers their own Clutch Lines to to replace the factory soft lines for more precise pedal engagement. 
Our last spotlight is Clutch Master's Throwout/Release Bearing Repair Sleeve. It's been a common issue that the surface the throw-out bearing rides on wears and binds, creating inconsistent pedal feel and engagement. 
If you need additional help choosing the correct clutch kit for your FA20 WRX give us a call! For a complete run down of all the CM clutches and applications checkout: Clutch Masters Clutch kits explaining all the Clutch Masters models/offerings.