NEXUS R3 VCU / ECU
Just like the proven Nexus R5, the new Nexus R3 combines functionality of a PDM (power distribution module) and a state-of-the art engine management system (ECU) in one compact yet powerful device. The new Nexus R3 provides an integrated vehicle control solution perfect for any motorsports application from drag racing to Rally or Drifting. Packaging the ECU and PDU together in one unit means you save space/weight and wiring. This makes for any easy install and trouble free long term use.
Nexus R3 Features:
Built in single channel lambda controller
Internal Data logging
Full PDM functionality (Digital relay/fuse replacement)

4x 25amp outputs
2x 8amp outputs
Half Bridge outputs 4 (2 x H-Bridge/DBW)

Full ECU functionality (Full standalone ECU/engine management system)

8 injector outputs
8 coil outputs
11 API (analog inputs)
6 SPI (Synchronized Pulsed Inputs)
4 (2 x H-Bridge/DBW) Half Bridge used for DBW or Electric wastegate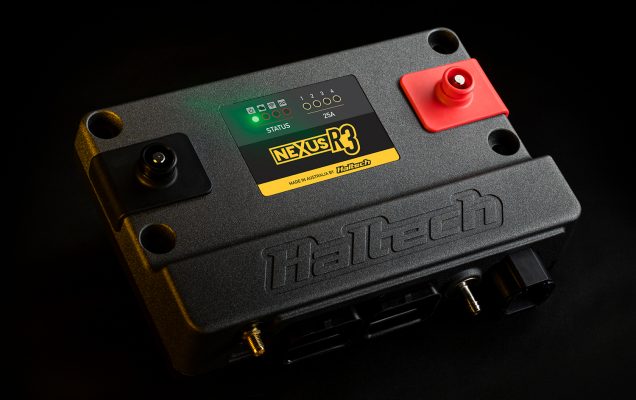 How to utilize the Haltech Nexus VCU:
In a nutshell the Nexus R3 allows you to configure ALL engine functions just like you would with a Haltech Elite ECU but the PDM function allows you to also configure power to accessories like fuel pumps, cooling fans, brake lights and more. This Power Distribution Module function provides even more reliability and safety functionality to your engine.
8 amp outputs are perfect for low load lights such as brake lights and hazards, pumps, fans and other accessories with an average draw of 8amps or less.
25 amp outputs are perfect for big electric fans (such as SPAL radiator fans), Fuel pumps and auxiliary water pumps with average amperage draw below 25amps
 2x HBO outputs can be used to control electric motors, either 2 motors 1 direction or 1 motor 2 directions.
Analog inputs perfect for analog signals from ECU or other sensors
1x CANbus This is the communications protocol connections and allows you to link your nexus r3 to any CANbus device from Haltech.
Combine with Haltech CANbus key pad for ultimate control of all functions and outputs
If you still have questions about the Haltech Nexus R3 VCU aka PDM + ECU do not hesitate to contact us. We are here to support our customers at every step of their build and we have the hands on race day experience to help you get exactly what you want out of your project.