K20 and K24 Haltech Elite 1500 Plug n Play Harnesses
Haltech Elite 1500 patch harness for the both DBW and non DBW K series (K20 & K24) have proven to be one of the most popular ECU packages for the Honda K series engines at a price point that won't break the bank. These K swap ready plug n play patch harnesses make installing K series engine easy no matter what chassis you are using it in. If you are using an older cable throttle K series engine these harnesses will also work for you.
Tuning the K series engines on an Haltech Elite ECU works so well it has quickly turned into one of our most popular package for the K24 and K20 platforms. With FWD, AWD and RWD configurations the K series is a versatile engine ready great power with a little boost & the Elite 1500 ecu. We offer full support for all K series engines both cable throttle and DBW throttle. Hands down the most popular application is the TSX-S K24a swap (this is the high performance head/proper V-tec cylinder head NOT the eco head). With this patch harness we maintain all OEM functions using the OEM engine wiring harness including DBW which is now controlled 100% by the Elite 1500 ecu.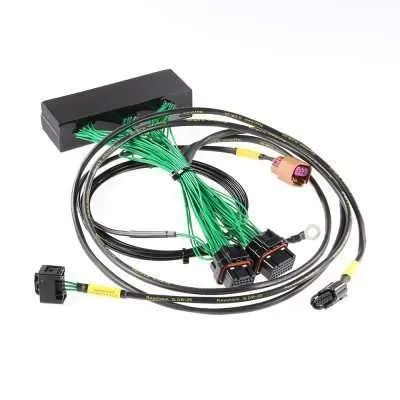 K Series Haltech Elite 1500 Harness Options & Variations
These K24 and K20 patch harnesses plug into your OEM engine wiring harness connector and the Haltech Elite 1500 ECU. This makes wiring in your K swap very easy, perfect for RWD K swaps or off road buggies. The RSX aka cable style harness is also extremely popular and perfect for anyone using a cable throttle K20 engine harness like you find in the RSX or Civic Si from the early 2000's. (This is the most common engine harness used in FWD and AWD K series Honda swaps.) If you have any doubt about what version harness you need please contact us with a picture of your oem ecu/harness plug and we'll ID it for you.
If you plan to run the "normal" modern sensor package on your K24 or K20 including Flex Fuel, Fuel Pressure, Oil pressure and Exhaust Manifold back pressure be sure to select the optional 6 pin DTM accessory connector. This makes adding additional sensors to your ECU super easy and clean all via the DTM connector!
Optional 4 pin DTM (power/ground connections for ECU perfect for off road buggy builds)
Optional 6 pin Accessories connector (allows you to add aftermarket sensors easily with DTM connector included)
Optional Plug n Play upgrade for K24/TSX engine harness with full DBW to Elite 1500 ecu
Here at Brewed Motorsports we not only sell Haltech engine management systems we also use them in many of our shop built race cars both K series powered and not. International customers from the furthest corners of the earth use Brewed Motorsports tuning services, both live dyno tuning as well as E-tunes with full dyno results. All Brewed Tuning services also come with specialized customer training to teach the logging basics of the Haltech software, providing the customer with the knowledge needed to properly data log and monitor the engine/ECU. Our "learn to tune" package is only offered for customers using one of our plug n play ecu packages and is a sure fire way to give you a leg up on the competition.
If you have any questions or other requests about your K series project don't hesitate to comment below, email or call us any time. Our team of Motorsports professionals is here to help ensure you get exactly the parts you need, nothing more and nothing less. We specialize in long term reliable, repeatable performance to ensure you enjoy your project for many years to come.
WARNING!
ALL Haltech ECU's and harnesses are for off road Motorsports use ONLY. Please check your locals laws and regulations before you modify your car.