The Motec M150 Plug & Play ECU package provides a complete replacement for the factory ECU in your 2008-2021 Subaru STI. Our  PnP Motec package uses the oem engine harness and all oem sensors. Along with fuel, ignition, throttle and camshaft control, thie M150 package also supports popular features like Flex Fuel, engine protection strategies and motorsports related features such as Anti lag, flat shift and launch control.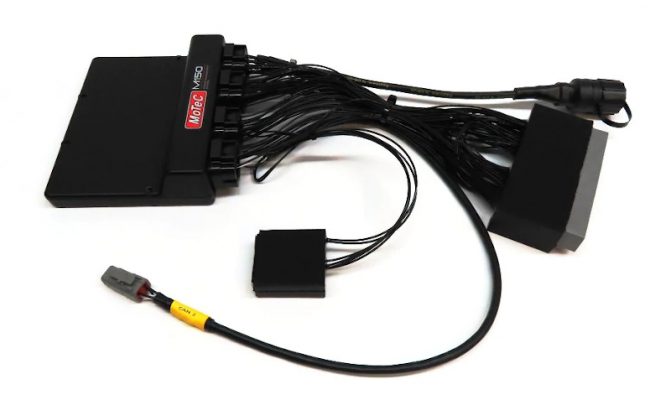 Motec M150 Subaru STI package features:
M150 full standalone ECU package replaces the stock ECU providing a powerful tuning solution. The M150 kit is plug and play to your Subaru STi for easy install and setup.
The Motec M150 kit is available for a few different versions of the Subaru STi from 2008 to 2021. Choose from the drop down menu to match your exact year STI. If you have ANY questions about what kit is right for you contact us via email or call any time.
Supports Subaru EJ 4 cylinder engines with dual or single AVCS, 36-2-2-2 crank trigger pattern, 4-1 inlet cam pattern, 2 tooth exhaust cam pattern (dual AVCS) and no separate sync sensor.
Full integration with Subaru STi OE CAN bus – maintains proper vehicle operation and dash functionality
Supports the OE DCCD active center differential ECU, or the DCCD can be connected to the M1 ECU via a optional PNP pigtail which allows full mapping of the DCCD system from within M1 Tune
Supports the factory cruise control including the steering wheel controls
Flex fuel control – adjust fuel, timing, boost, cold start and more based upon ethanol content
iDrive switch (if equipped) can be used for any driver switch function in the M1 (boost/throttle/fuel trim/anti lag maps etc)
Supports running two separate fuel systems – each running a different type of fuel
Nitrous control – various parameters supplied to control nitrous. Includes nitrous bottle heater relay control based on nitrous pressure
CO2/wastegate pressure control – controls a fill/bleed solenoid setup to control wastegate pressure
Water injection control – with failsafe for boost/timing/fuel based on pressure sensor feedback
Air bypass anti-lag control – using pneumatic valve with solenoids or servo valve
Turbo shaft speed limiting
Supports the use of third party lambda controllers with 0-5v output signal
Supports momentary buttons
Supports direct input from a MoTeC/Racegrade CAN keypad
Just like any other standalone ECU the Motec M150 will require professional tuning. We offer in person on site support for setup and tuning as well as remote offsite tuning services. If you want to tune the engine your self we even have special "learn to tune" courses available. 
The Motec M150 ECU is for off road motorsports use only. NEVER to be used on public roads within the USA.
The M150 ECU seamlessly integrates with our other MoTeC products like the C125 and C127 digital displays to further enhance the driving experience.
Base Map & Tuning Services for Motec M150
If you want to get the most out of your Motec M150 ECU check out our Motec Etune service. For those serious racers contact us about Track Support & Data Analysis options and scheduling then please contact us by email!