BorgWarner Airwerks SX-E Turbo S362SX-E 61.44mm 8380
Ideal for drag race applications limited to 61.44mm inducer and twin turbo V8 – the all new 'SX-Enhanced' S300 SX-E 8380 turbos redefine performance and value for modern turbochargers. Utilizing the latest generation EFR compressor aerodynamics with uprated 360 degree thrust assemblies, this proven design is packaged in a purpose built SX-E compressor housing with ported-shroud inlet and speed sensor port. The turbo is paired with traditional Airwerks 80mm Inconel Turbine Wheel and Flexible Housing options.  The 61.44mm S300SX-E Turbo has smaller overall dimensions than the EFR8374 and higher airflow rates, which make this an excellent match for high-boost and high-power 63mm drag racing applications.  Bearing housing is Oil-Cooled Journal Bearing configuration.
Key Features:
360 degree thrust bearing
Compressor cover integrated speed sensor port and pre-machined boost port
Flexible compressor cover outlet options (S300SX-E only)
Forged milled (billet) compressor wheels with extended tip technology
Optimized compressor stage aerodynamics
Interchangeable with existing turbine housings for upgradability
The BorgWarner super core assembly consists of the compressor cover attached to the cartridge, all cartridge to turbine housing mounting hardware, clamp plates, cap screws and mounting gaskets. Speed sensor and turbine outlet V-band are not included with turbo assemblies.
Choose a turbine housing from our extensive list of factory housings as well as our custom cast performance housings.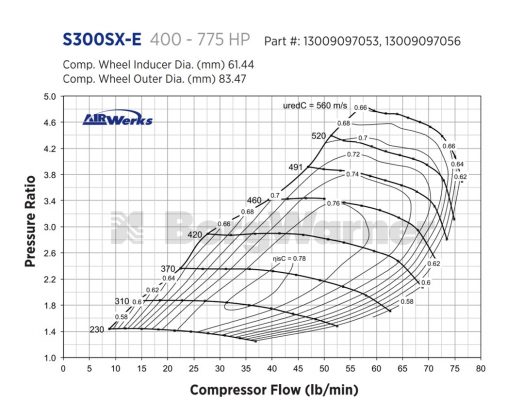 Compressor Specifications
Compressor Type: Forged-Milled Wheel (FMW) Extended Tip
Compressor Wheel OD (Exducer): 83.47mm
Compressor Wheel Inducer: 61.44mm
Max Flow Rate: 78 lb/min
Max Recommended Turbo Shaft Speed: 121K RPM (560 m/s)
Compressor Housing Connections:

Inlet: 4.0″ Hose Coupler
Outlet: 2.5″ Hose Coupler
Turbine Specifications
Turbine Type: Inconel S300SX Turbine Wheel
Turbine Wheel OD: 80mm
Housing Material: D5S
Housing Size and A/R ratio: S300SXE 8380 is available in three (3) different turbine housing configurations:

0.88 A/R T4 Single Scroll
0.91 A/R T4 Twin Scroll
1.00 A/R T4 Twin Scroll

Turbine Outlet: 3″ Marmon OR Optional 3″ V-Band ($150)