The SR20DET has become an icon to the Nissan community for good reasons. It's a small lightweight, all-aluminum 4-cylinder engine with 2 liters of displacement and dual over head cams "DOHC"  delivering anywhere from 202HP – 247HP in stock form. In this article we will be focused on walking you through the RWD SR20DET engine found in the Silvia and 180sx. 
Red Top, High Port or Flat Top S13 SR20det
The S13 Silvia and 180sx featured the flat top (non VTC) high port cylinder head. Like all versions of the SR20DET, it uses a hydraulic lifter/flat tappet style rocker arm valve train. The block is an open deck design with a square stroke to bore ratio at 86mm with an 8.5:1 compression ratio. 
This design worked so well that Nissan continued production from 1991-1998 in the 180sx.
A T25 journal bearing turbo is paired with a MAF based fuel injection system using 370cc side feed injectors and direct coil on plug ignition. In stock form the engine produces 7-9psi and is rated for 202 crank HP. 
Notch Top or Black Top S14/S15 SR20DET
The S14 and S15 Silvia's both use the Notch Top (with VTC) and low port design cylinder head. This new cylinder head has a more efficient intake port design than the S13 SR20 for better air flow. The addition of VTC also means the engine is able to produce more mid range power than the S13 version. 
The S14 SR20DET features a T28 journal bearing turbo and 370cc side feed injectors with a MAF based fuel injection system and direct coil on plug ignition rated at 217 crank HP.
The S15 SR20 receives an upgraded GT28 ball bearing turbo and larger 440cc side feed injectors with a 247 crank HP rating in stock form.
One of our most popular mods that not only looks great in your engine bay but also adds power throughout the RPM range the S14 and S15 SR20 Velocity Element Intake manifold as seen below on our SR20det swapped BMW E30. 
Luckily for us the fun doesn't stop here, with a few simple mods to let the engine breath freely and a custom ECU tune the SR20DET becomes a new beast.
Starting off with the intake, exhaust and inter cooler we are able to free up 25-35 HP. From there the addition of a large fuel pump, injectors and a modern Engine Management system with a custom tune we can push power into the 270-350 range at 15-20psi of boost. 
Making "big power" with the SR20DET
Those of us always looking for more power can choose from our range of bolt on turbos and turbo kits to support 300-1200HP. Below you can see our #1 SR20det turbo manifold, this manifold is the perfect match for our G25 660 turbo and Tial MVR wastegate. This combination delivers fast spool/great response and the ability to support over 600WHP!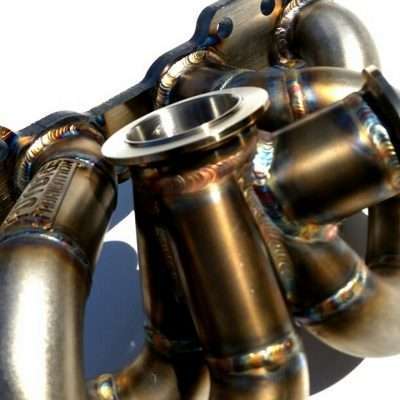 When we build a SR20 with power goals over the 450HP mark we need to upgrade the internals of the engine. Starting at the cylinder head we will fit an aftermarket set of cams and valve springs/retainers to match the turbo being used. This is key to ensuring the engine operates efficiently which keeps stress on the engine internals down.
Matching the cam profile to the turbo is an important part of making efficient power. Bigger is not always better here. If the engine will be revved over 8000rpm we will do a dual-guided shim conversion. (Check out our blog for a full write up on the dual-guided shim conversion).
Optional port and polishing on the cylinder head as well as over sized valves increase air flow and efficiency even further for those 500+ hp builds. 
Turning to the engine block, a set of forged pistons and connecting rods are used to increase reliability. For engines making over 500 hp we also install a set of Darton Mid sleeves. These sleeves greatly increase the strength of the engine block and are a key part of any high boost high power SR20 build.
Mating the cylinder head to the block is handled with a multi-layer metal head gasket and ARP head studs. Using a good multi-layer metal gasket and ARP hardware will ensure a good head to block seal for even the most extreme combustion chamber pressures. 
The final piece of any SR20DET build is an Engine Management System and custom tune. Along with an aftermarket ECU or EMS the addition of key sensors helps to keep the engine running strong and adds a layer of safety features when correctly calibrated in the ECU.
While the stock ECU is a MAF based fuel system it has become common practice to convert to a modern MAP speed density based system. In addition to a MAP & AIT sensors listed above utilizing a wide band knock sensor, flex fuel sensor and fuel pressure sensor found on modern production engines takes the SR20 to a new level of performance.
A properly tuned ECU allows the engine to run reliably and efficiently make power under all conditions. An EMS also allows tuning flexibility for future modifications or updates. 
Glossary of Terms:
VTC – Variable timing cam (Nissan's 20* variable intake cam timing) 
MAF – Mass Air Flow (this is a sensor placed in the intake to measure incoming air volume)
MAP – Manifold Absolute Pressure sensor (measures pressure in the intake manifold post throttle body)
Speed Density – Fuel management method using MAP sensor and Air temp sensor. (Here at Brewed Motorsports we utilize a wide range of fuel trims that deliver extremely high resolution mapping above and beyond the average Speed Density system.)
High Port – Refers to the intake ports on the S13 flat top SR20det. The port angled up and are in a much higher position than the intake ports on the later notch top engines.
Low Port – Refers to the intake ports on the S14 and S15 notch top SR20det. The ports are low on the head near the intake valves.