Cobb AP WRX and STI 2015-21
The COBB Access Port is a simple ECU tuning tool with built in data logger and display gauge functions perfect for your 2015-2021 WRX and STI. We have tuned hundreds of WRX & STI's from mild to wild using the Cobb AccessPort and couldn't be happier with the reliable performance we get with each new AP tune. If you are looking to get the most reliable clean power out of your 2015+ WRX or VA sti. The new in-cabin mountable Accessport V3 has a large, full color, higher resolution screen which allows you to monitor up to six parameters in real time. Fully customizable from the look (multiple bezel colors), layout (set up race, street, or dyno gauge clusters), and mounting options (choose from 1,000s of standard vehicle mounts). And what's looks without brains? More processing power, memory, and storage to flash faster while saving all of your maps and logs.
Special package offer: Purchase any Exhaust and Cobb V3 AccessPort or Motec ECU for your Subaru and get $100 towards any of our Tuning services including base maps and Etunes.
Features of the Subaru Accessport V3 (AP3-SUB-004):
Larger, full color, higher resolution screen
Customizable multi-gauge display
In vehicle mount, with on/off switch
Faster and easier to use with a familiar face
Interchangeable faceplates
Access to Pro tunes AKA etunes for Motorsports use vehicles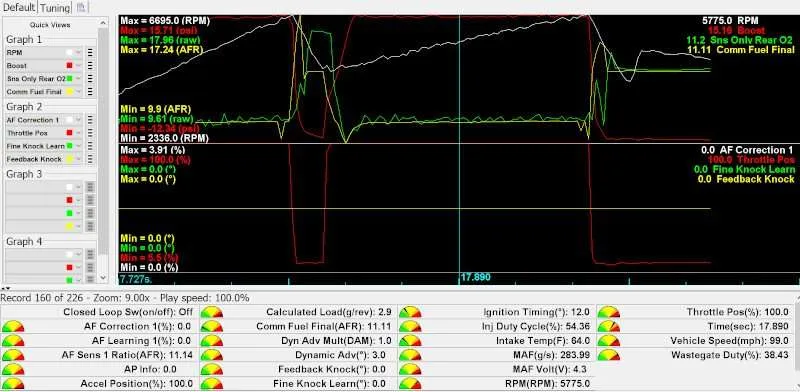 **EMISSIONS 50 State Legal.
This part is legal for sale and use on Emissions Controlled Vehicles in all 50 states when used in accordance with the manufacturer's application guide because it has a California Air Resources Board (CARB) Executive Order (EO) number: D-660-16 ALL custom pro tunes and Etuning services are for motorsports use vehicles only.
For those with older STI's looking for a Cobb AccessPort Click here: Cobb AP for 2008-2014 Subaru STI 
Looking for a the best bolt on turbo upgrade? Check out the FP green HTZ turbo for STI/WRX Already have a turbo but need some injectors for your STi? Click here for the best pricing and free shipping on all Injectors Dynamics orders like the ID1050x for sti & wrx.