Cobb Fuel System STI 2008-21
The Cobb fuel system for the 08+ Subaru STI is the perfect match for any track prepped STI looking to make the change to E85 or running on an upgraded turbo that moves more air than the factory injectors,  fuel pump and regulator can support. The Cobb fuel system is a complete package that makes for an easy trouble free install with the ability to support nearly double the fuel the stock pump and injectors are able to flow.
Special offer: For those running one of our Motec, AEM Infinity or Haltech plug & play ECU packages we offer turn key base maps for all cobb and Injector Dynamic injectors free of charge with Injector orders.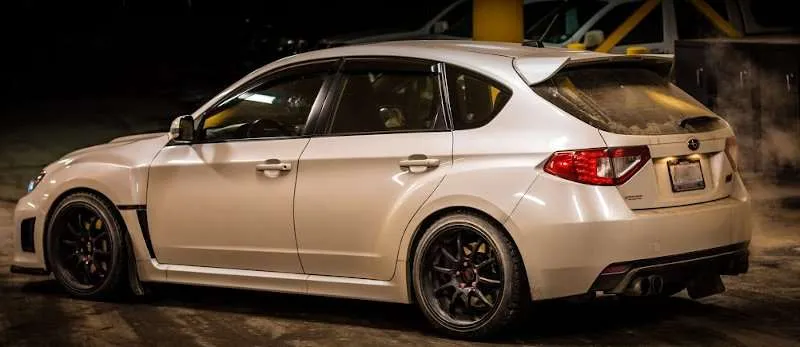 Subaru Fuel System Package STI 2008-2021
Subaru Fuel Rails STI 2008-2021
Subaru Fuel Rail Line Kit STI 2008-2021
Subaru Fuel Pressure Regulator for Fuel Rail Kit STI 2008-2021
Subaru Top Feed 1050x Fuel Injectors
Subaru AEM High Flow Fuel Pump 05-09 LGT, 08-14 WRX, 08-21 STI
Precision matched fuel injectors are a key ingredient in all of our projects and builds. Everything from street cars making 400whp and getting 40 mpg + to full blown drag cars running staged fuel injection systems for extreme fuel supply. 1050x injectors go through an extensive flow matching processes that delivers the best tune-able injector on the market.
1050xds Injector Key Features:
Cobb tuning 1050x injectors are re branded ID1050x injectors (we use ID injectors in all our shop builds)
Nominal Flow Rate – 1065cc/min @ 3.0 Bar (43.5 psi) Using Iso Octane at 52 Degrees C (125 Degrees F)
Maximum Differential Fuel Pressure – 10.0 Bar (145 psi)
Fuel Compatibility – Compatible With All Known Fuels – (Designed Specifically for Alternative Fuels)
Electrical Connector – USCAR
Extended Service Life – Replaceable Inlet Filter
The ID050 was designed in partnership with Bosch Motorsport
Price is per injector and includes the adaptor for the top and an injector clip with pins
High Impedance, no need for injector drivers or injector resistors
The high pressure and excellent atomization makes these are great option for high power N/A applications as well
Corrosion resistant internals make it compatible with all known fuels, capable of extended service life with corrosive fuels.
High duty cycle, with a recovery time of only 1ms, all injectors will run up to 92.5% duty cycle at 9k rpm and 95% duty cycle at 6k rpm while maintaining linearity within 1%
Excellent low pulse width response, linearity within 2% all the way down to 2ms, predictable response down to 1.5ms. Using a 3 dimensional battery comp table with Motec V3 software, low pulse width response can be linearized to practically zero flow.
Excellent consistency, no sets will require more than a 1% trim
Ruler flat response, unmatched linearity means easy tuning and accurate compensations.
ECU/Engine Tuner quotes:
"ID injectors are hands down the best injectors I have ever worked with. Easily tuned for smooth idle and good economy with enough flow for HUGE HP and high boost." –Eric FL (Motec, AEM, Hondata, Power FC, Fcon, Haltech, stock ECU)
"These injectors are so well matched from the factory with GREAT flow data for just about every ECU creating a base map and then fine tuning for a new set of injectors couldn't be any easier." –Ennio R (Motec, Haltech, Vipec, AEM, EMS)
Examples of Brewed tuned KA24 and SR20det both running the 1050x injectors:
EMISSIONS
This part is legal under the provisions of EPA's Anti-Tampering Policy. COBB Tuning has established a reasonable basis (testing results) to verify that this product allows the vehicle to operate within legal emissions standards and is therefore legal to be sold for on-street use in all states that accept the legal provisions of the Clean Air Act and EPA's Anti-Tampering Policy.
NOT LEGAL FOR SALE OR USE IN CALIFORNIA ON ANY EMISSION CONTROLLED MOTOR VEHICLE.
Testing with the California Air Resources Board, in order to achieve 50-state compliance, is pending. Once testing is complete with California, and an EO number is issued, this product will be updated to 50-state legal status.