With the AEM X-Series EGT gauge you'll be able to keep a sharp eye on those critical combustion chamber events and the exhaust temperature and catch any issues before they spell catastrophe. This gauge is a must if you want highly accurate EGT readouts! With the AEM X-Series gauge not only will you know what your EGTs are, you'll be doing it in style. With the X-Series gauge's ability to program alarm thresholds that will alert you if something is not where it should be, you'll know right away that something is wrong. By having an alarm you'll be able to focus on driving the car instead of worrying about checking your gauges making sure that everything is in order.
**NOTE: The 30-0305 comes with a black bezel and reversible Fahrenheit/Celsius black EGT faceplate. You will need to purchase the optional 30-0305-ACC accessory kit to get the silver bezel and reversible white EGT faceplate. The calibration for standard or metric display is easily performed using the buttons on the face of the gauge.
AEM X-Series Gauge Features:
Easier To Read
Visual improvements include a bright center LED display that is 87% larger than our original digital gauges and provides better readability. A sweeping green LED "needle" lines the edge of the gauge face for quick reference. A 33% overall increase in the gauge face display makes it easier to see at a glance.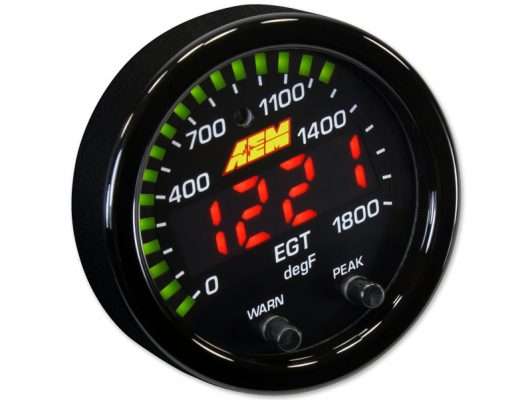 Easier to Mount
Despite the larger display, X-Series Gauges are contained in a standard 2-1/16th-inch (52mm) diameter housing for mounting in a standard gauge pod. Thanks to an advanced single board design, X-Series Gauges have an incredibly slim overall depth of under 0.825", with a cup depth of only 0.200." This shallow cup depth allows X-Series Digital Gauges to be mounted practically anywhere.
Smarter Interface
X-Series Digital Gauges include new technological features that make them easier to use. Two buttons on the faceplate deliver programmability for peak/recall, standard or metric center LED readout and sweeping LED needle, and user-selectable threshold warnings. The gauges are AEMnet CAN-bus enabled, so they can be daisy chained together for use with the Infinity ECU, Series 2 EMS, AQ-1 Data Logger, or 3rd party EMS or logger that accepts AEMnet. 0-5V analog outputs are also included for inputting into data loggers and engine management systems.